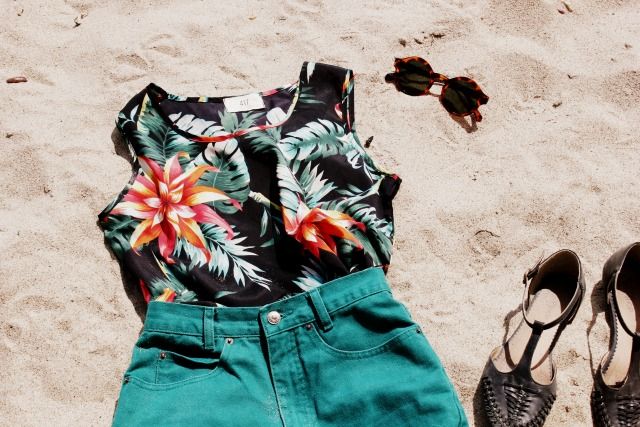 Camisole, Topshop, £26 - Shorts, American Apparel, £52 - Shoes, New Look, £6.99 - Sunglasses, H&M, $5.95 - Bag, H&M, £29.99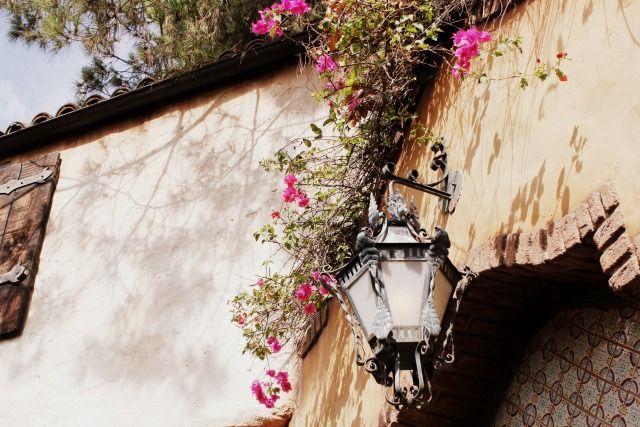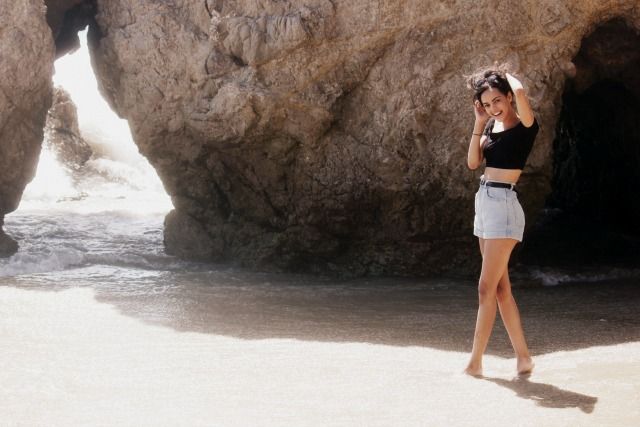 You know those moments of pure and utter happiness you have, where you have no worries in the world and feel completely at peace with yourself? That is exactly how I felt for the six days I spent in Los Angeles last month. My trip was practically perfect, I was having the most incredible time livin' the LA lifestyle, that I barely took any pictures, but I thought I'd share these with you nevertheless. It felt amazin' being so carefree and to just live in the moment, my trip really made me appreciate all of the details of daily life and realize just how truly luck I am.
Every day was a completely different experience, thanks to the lovely people I spent my time with (Kelsi, Gina, Aaron, Kathleen, and most importantly my dearest friend Gabby!), I thank them all so much for making my first trip to Los Angeles so special. On the Friday I headed out with Gabby and her boyfriend for a wander along the pier on Santa Monica beach with a frozen yoghurt in hand, before heading home to have a lazy evening in (with milk and oven baked cookies before bed! Perfect). Saturday mornin' was spent lounging around the apartment, before heading to Taylor Swift's concert at the Staples Center which was absolutely incredible, plus I finally got to see Ed Sheeran live which was so worth the wait! On Sunday we headed down to Downtown LA for a spot of shopping, where I got the chance to visit the American Apparel outlet store which was ridiculously tempting, though I managed to contain myself and only bought one little thing, and luckily so as my suitcase was overweight upon my return to London! Havin' spent only a few days in Los Angeles I had already experienced so much, but my Monday was pretty darn exciting to say the least, as I went to Disneyland! I had the best time exploring the park sporting my Minnie Mouse ears, going on plenty of rides, stopping for cocktails, raiding the Disney store and catching the fireworks in the evening - you can see more about my Disney adventure over on Kelsi's blog! Tuesday was my last full day in America, so I took it easy and went to El Matador beach with Gina and Kelsi to soak up the sun and admire the incredible views, before heading out to dinner with the gang. On my final morning Gabby and I headed to do a spot of secondhand shopping (of course 'Thrift Shop' was the only song I had in my head!) where I picked up a couple of lovely bargains, before heading to the airport ready to take a ten hour flight back home.
I have to say, I feel pretty darn emotional writing this post (I know I've completely rambled on, so apologies!) as I had the most amazin' time, and between this trip, Vegas and my family holiday, I'm on such a high and really don't want this wave of happiness to end. I'm now back into the swing of things with my London life, busy with work and lookin' forward to shooting and sharing plenty of new posts! Love, Jazmine.