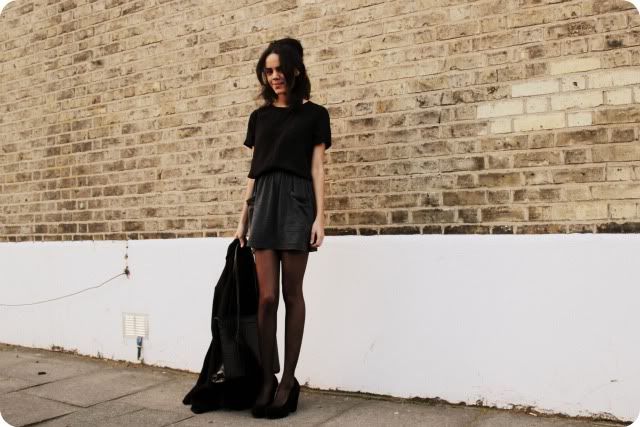 Silk t-shirt and American Apparel skirt, car boot, £2 each - Bag, car boot, free - Heels, c/o Bertie - Coat, c/o Clothing at Tesco.
Another grey and black outfit to share with you all following on from my last post, I find it such a simple but effective colour combination, plus it's been lovely to purposely try to create outfits only using those two colours. I have a few more grey and black outfits in mind, but I'll also be posting a pretty darn bright outfit on here soon, so look out for that!
I've had quite the lovely week, to be honest. On Wednesday I had a job interview (which I so hope I get!), along with a CreateVoice meeting at Victoria and Albert Museum, then on Thursday I assisted on a V&A Shop shoot which was great fun. Apart from that I've mainly been at home drinking tea, replying to emails and watching Two Pints of Lager and a Packet of Crisps (of course!). I also found out that my blog has made the long list for Best 'What I'm Wearing Today' Blog in Company Magazine's Style Blogger Awards! If you so fancy, you can vote for my blog here, where you can also find my blog in a couple of other categories with many of my favourite bloggers and friends. I'm also hosting a little giveaway over on my Facebook page, where you can win one of three little V&A diaries! Love, Jazzabelle.