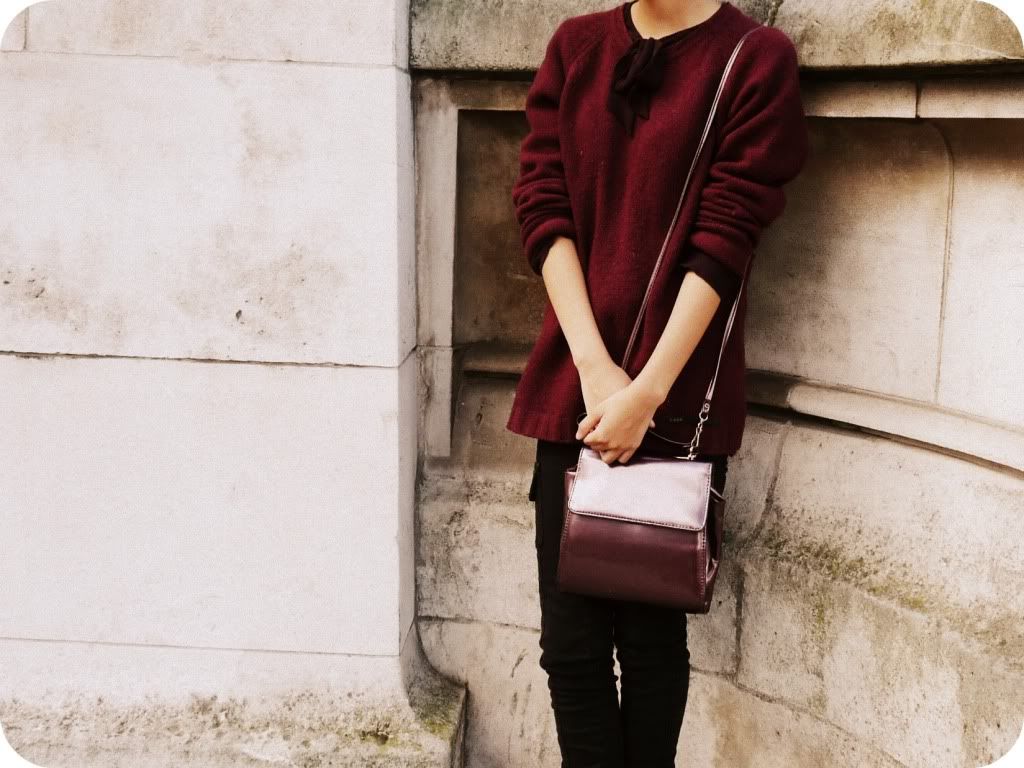 -Diesel jumper, charity shop, 50p -Laura Ashley cardigan, car boot sale, 50p -Bag, jumble sale, 50p -Cargo jeans, courtesy of Next.
In the top photograph you can probably make out that I'm wearing lipstick, a first for me, as I tend to only wear concealer and powder. It's actually my Grandma's lipstick, I tried it on a few days ago and just adored the deep shade, similar to that of my Laura Ashley cardigan, so she kindly gave it to me. I've worn the lipstick all day today and yesterday, it's actually made me feel a little more confident in myself, plus it's just so pretty, you'll definately be seeing many outfit posts with me wearing lipstick in the future!
These photographs were taken outside the Victoria and Albert Museum, after my Grandma, Mum and I were given a private tour of the Raphael: Cartoons and Tapestries for the Sistine Chapel exhibition, which I won a couple of days ago via a Twitter competition. It was such an experience to be given a tour, I'd like to thank Linnea for showing us around, we all had a wonderful time! After visiting the V&A, my friend Shana-Kaye and I got 'dolled up' (which just consisted of me putting on a pair of wedges, cardigan and necklace) then went out for Nando's and a good few drinks. I had a pretty darn good evening, and a lovely weekend overall. I hope you have all had a wonderful weekend, too! Love, Jazzabelle.