On Friday I met up with Saskia from Not Just Medical and Abi from I am Abimarvel, I had such a lovely day! I'm somewhat useless at narrowing down my photographs, so I may do a couple of posts on our day. After getting a tad lost finding our way to Spitafields Market, we ended up on Brick Lane (first time I've ever been to Brick Lane, y'know) and got a spot of lunch at a lovely place called Story Deli.
*Scarf, car boot sale, 25p *Primark coat, charity shop, mum's *Satchel, charity shop, £4 *DIY shorts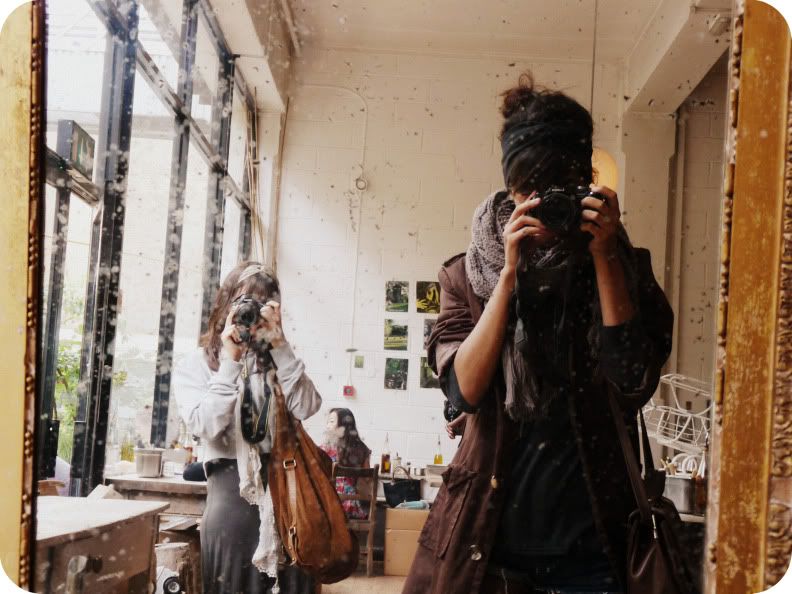 The decor in Story Deli was definately my kind of style; simple and rustic with high ceilings, white walls and many antique style mirrors, giving both a modern and vintage atomsphere. I just loved the mismatched tables, chairs, retro objects and cutlery.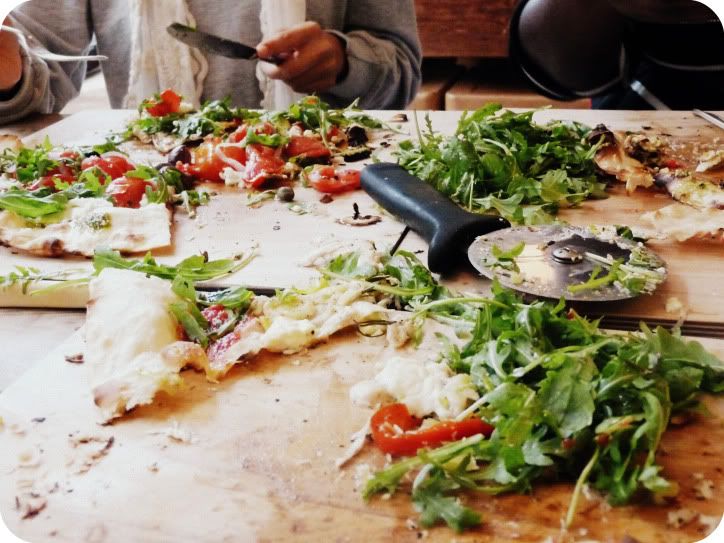 None of us had been to Story Deli before, so we where expecting 'proper pizzas', but instead what arrived on wooden serving blocks were
two super thin, crispy pizzas, piled high with many delicious organic toppings and plenty of rocket. Our choices where 'Smashed Tomato', and 'Chicken and Mushroom' without the mushroom, hehe. I'd definately recommend this resturant, and I'd love to back again one day, it's a great change from an ordinary pizza! Abi, Saskia and I spent a good hour talking, attempting to eat the pizzas without making too much mess or making the toppings fall off (though as you can see we clearly did!). This was actually my first planned blogger meet up, I've met both Abi and Saskia twice previously (both at the Rare press day, Saskia at the Next model competition and Abi at Pure London), so it was lovely to actually preplan to meet each other rather than bumping into one another! We probably would have never met if it wasn't for our blogs; Saskia studies medicine, Abi is about to study public relations and I study art, so we are all rather different, but we all evidently have a love for fashion, photographing and eating pizza, hehe. Love, Jazzabelle. P.S. My mum and I will be selling our old junk at Battersea Car boot sale today, let's hope we make some money! Though knowing me I will spend more than I make, hehe. P.P.S Have a peep as Abi's latest post for more on our day out!