On Thursday I attended the Kriss Soonik loungerie S/S 2011 show at the McQueen bar in Shoreditch, after the lovely Abi from I am Abimarvel unfortunately couldn't make it. Due to a few issues I was not allowed to be at the press party to watch the catwalk show, but I was allowed to quickly go backstage to take some shots of the clothes. I think it all worked in my favour really, I have always wanted to be backstage at a catwalk show, so I had a pretty darn good night! So, here are my behind-the-scenes shots of the event:
Bridget Bardot inspired hair and makeup.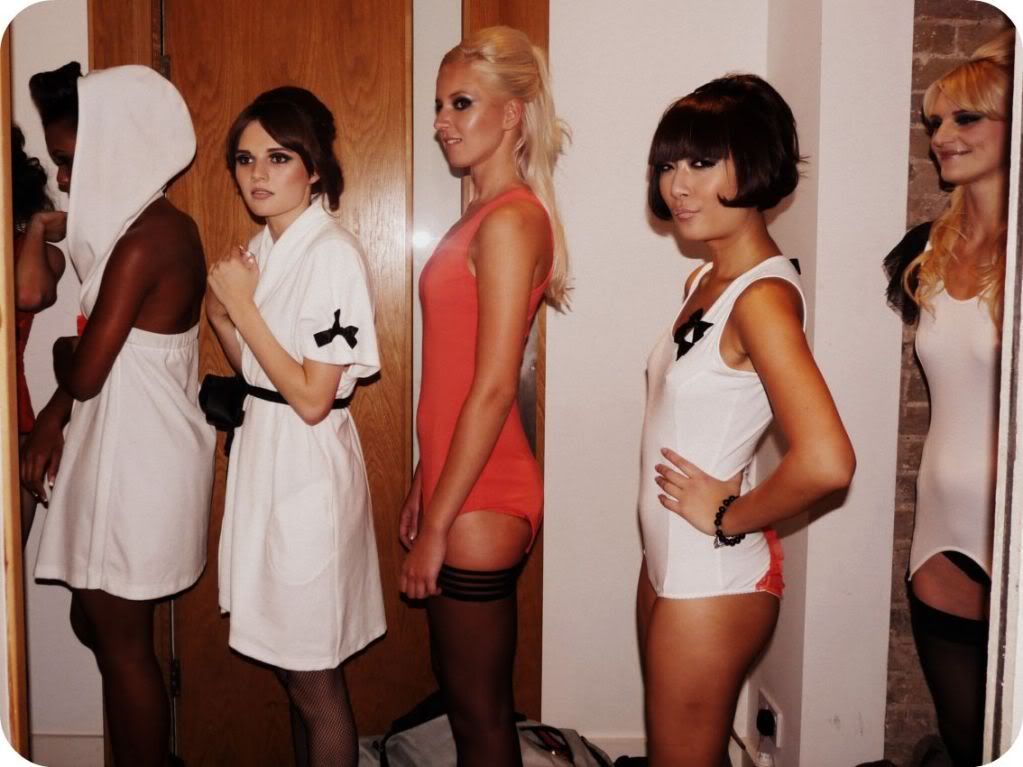 First of the three changes for the models.
Kriss Soonik's trademark cat logo represents glamour in the purest form.
When I first went backstage I didn't know what to expect, there was just simply a rail of all of the loungerie, not very good for photographing. But shortly after I arrived the models, makeup artists and assistants followed, and started to get ready for the show. For a while I took a back seat and just watched, but then I built up the confidence to start talking and take photographs of everyone. I stayed much longer than I expected to, it was such an experience to watch what goes on backstage, I even ended up helping the models quickly get in and out of their superhero-inspired outfits. I couldn't resist getting a tad involved, hehe. Do you like the Kriss Soonik S/S11 collection? Kriss designs her collections believing that all woman can be superheroes, hence her slogan, 'Simple Girls with Super Powers'. I'm not a huge fan of the colour orange, but I do adore all of the lace, sheer fabric and the many bows which made an appearance. Plus I really do love the cat logo necklaces, I want one myself! Also, what are views on lingerie as outerwear? Love, Jazzabelle. P.S. A big thank-you to Samantha at Kyzar Entertainment for getting me backstage and to Abi for inviting me, I had a great evening! Models: Kasia Bober, Victoria-Rose, Natalja Smirnova, Nicole Da Silva Semedo, Norah Mullane, Michael Weylo, Kart Taniberg, Charlene Nga Dang. Makeup artists: Maria Foster, EmilyJane, Serena Locatelli. Set Management & Coordination: Richard Austin Rees PR & Fashion Management.