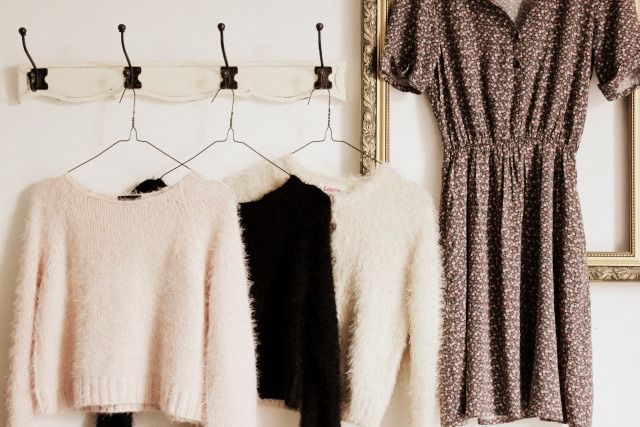 Dress, Cath Kidston, £30 (staff discount) - Cardi, c/o Louche at Joy - Boots, New Look, £42 - Fluffy jumpers, Topshop, £34 each.
Finally, a new post! Better late than never, I suppose. I've always been pretty darn sporadic with my posting

(mainly due to confidence issues and finding the time to shoot with my mum)

and to an extent it bothers me, but personally I just don't see the point in bloggin' 'just because', if I'm not completely in the mood or in order to be consistent. I really do hope you enjoy my posts, even if they are few and far between! I like to think that adds to my charm, somewhat.
Over the last month

I've been pretty lazy, I have to say (what's new there, Jazmine?). When I've not been working, I've been spending days at a time at home in my pajamas watching reruns of New Girl and The Mindy Project, attending a couple of blog events and generally pondering about my future. One very special thing has happened since I last posted, though - I'd landed myself a new job! After two interviews, one presentation and lots of worrying, I'm soon to become the new Marketing and Events Assistant at the Cath Kidston Flagship in Piccadily which will be opening in December! I've worked at Cath Kidston as a sales assistant and visual merchandiser for just under two years now, so it's amazing to progress in the company in such a way, plus I'm particularly proud seeing as landing such a role proves that quitting my second college course and not going to university hasn't hindered me in any way! Am I a real grown up now, gettin' a full time job and all? It's getting me rather excited about my future, and who knows, next I'll be in a committed relationship and looking to buy my first house (oh, a girl can dream...)! Love, Jazmine.