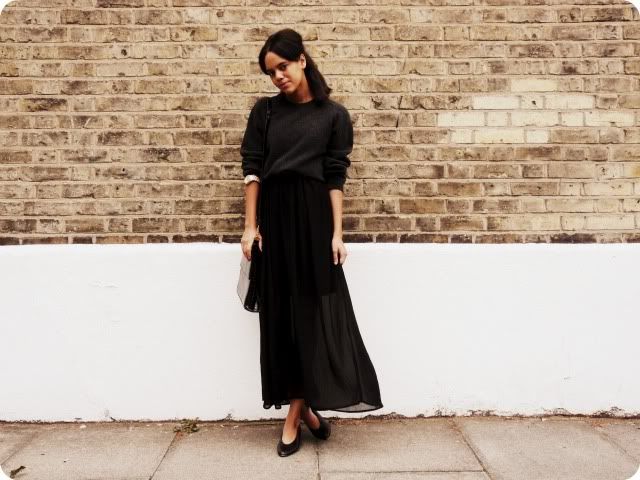 Topshop skirt, gift - Jumper and belt, charity shop, 50p each - Bag, car boot, £2 - Shoes, charity shop, £3 - Watch, c/o H.Samuel.
Hello all, apologies for my lack of blogging as of late, I'm useless! It's been rather lovely to be away from the laptop though, as I've mainly been spending my days with family, reading, secondhand shopping and rearranging my bedroom - same as usual, really! I have to admit that I've been feeling a little down about the quality of my blog, but I'm really determined to start posting more regularly, so I'm setting myself the target of posting a minimum of ten times next month. Wish me luck!

It would be great if you could comment with ways you think I could improve my blog or posts, I'd really appreciate your feedback! Anyway, H.Samuel recently sent me a watch from Guess to style after noticing that I've never worn a watch in any of my outfit posts before, which was very kind of them. As I expected, the watch was a little large for my skinny arms, but I actually

think it looks rather nice so high up my arm rather than the 'usual' wrist! Plus it does add something to my simple outfit. I'll definitely be wearing the watch again, but I'm still on the lookout for something more dainty and vintage inspired to suit my style. In other news, I can't believe it's nearly September, this year has gone so darn quickly! Love, Jazzabelle.