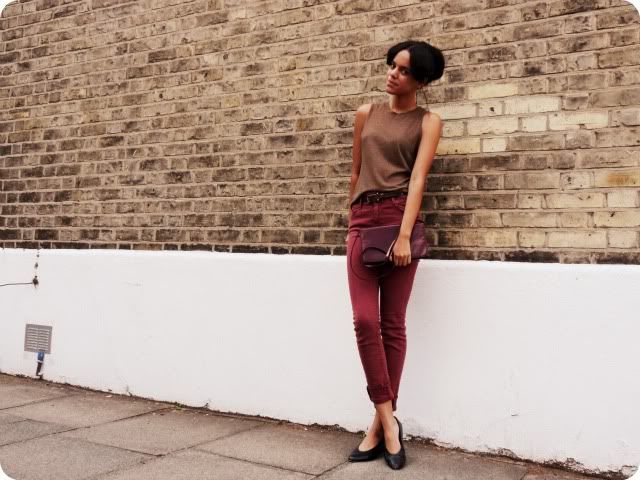 Topshop tee, car boot, 20p - Belt, charity shop, 50p - Bag, car boot, £1 - Jeans, Topshop, £22.50 - Shoes, charity shop, £3.
Hello everyone, I bet this is a shocking sight for you all. Me, wearing something other than black? Cor blimey. I absolutely adore the colour of these jeans, as soon as I saw them in Topshop last week I just had to try them on. In the past when I've tried on Topshop jeans they have been rather baggy on me, but since gaining some weight in the last year they are now the perfect fit (and quite flattering if I say so myself!), so I saw it quite the investment to also buy them in camel and black. The price of all three was originally meant to total to one hundred and twenty pounds, but due to two of them scanning through cheaper and my student discount I managed to get all three for just eighty one pounds! I hardly ever treat myself to new, 'expensive' things, so I'm really happy with my purchases. I can't wait to style the others, they are perfect additions to my wardrobe, I may actually have to buy a few more colours!
I have to admit, I was unsure about posting such pictures of myself after current events - the riots which have been taking place in the UK over the last few days are absolutely shocking, words can't fully express how I feel. On Monday night I couldn't even get home because my neighbourhood was too dangerous (luckily I managed to stay at a relative's house in South Kensington) and my local high street has really been affected. I hope everyone is okay. Stay safe! Love, Jazzabelle.