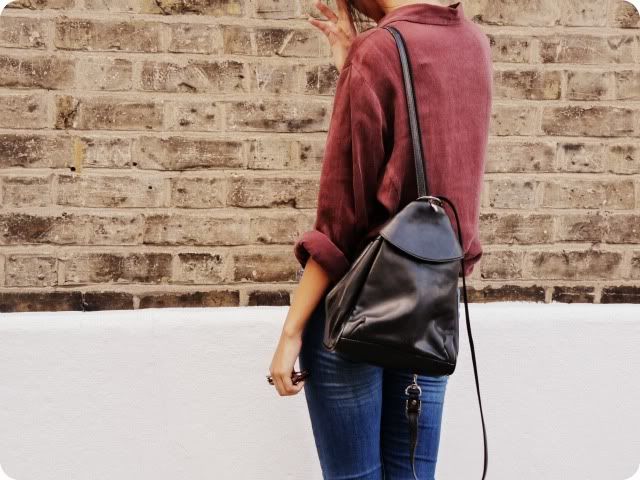 Vintage shirt, charity shop, 50p - Jeans, c/o
H! by Henry Holland
- Sunglasses & bag, charity shop, £1 each - Shoes, Cow Vintage, £3.
I've had quite the lovely weekend to be honest, I hope you all have too! I spent Saturday afternoon at the Victoria and Albert Museum attending a

seminar

on William Morris which was ever so insightful, as I just adore his work, then I met up with my fellow blogger friend

MJ

for a Starbucks and a little chat on the steps of the museum.

Afterwards another friend came around to my flat, where we ended staying up until eight in the morning, so with just four hours sleep I met up with MJ again for a spot of charity shopping and carbootin', where we both found a ridiculous amount of bargains! I can't wait to share what I bought with you all, including an adorable pleated mini skirt for fifty pence, a smart black Asos dress (similar to

this

) for a pound, a beautiful faux snakeskin bag for two pounds, a brand new Primark vintage inspired dress for three pounds, a lace top for two pounds fifty pence and a DKNY silk shirt for a pound. Hopefully I'll have time before work over the next few days to take some photographs to show you! Love, Jazzabelle.
P.S. It's my nineteenth birthday on the fifteenth of this month, I'm ever so excited!