Hat, c/o Next - AA t-shirt, car boot, £2 - Belt, charity shop, 50p - Shorts, c/o The Kooples - UO bag, charity shop, free - Shoes, Vintage, £3.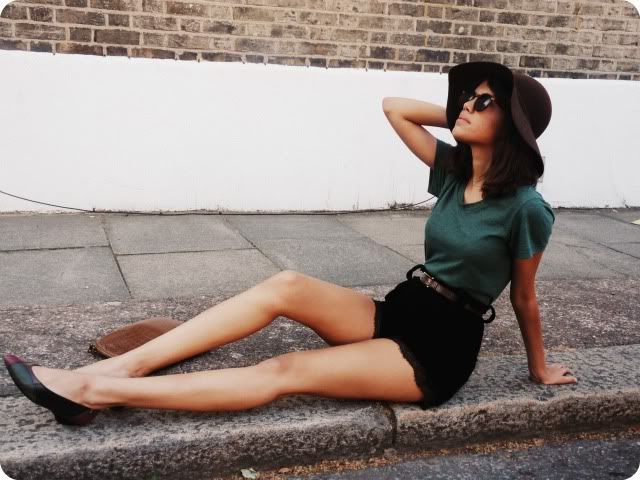 Apologies for my lack of blogging recently, I hope these overly posed photographs (what have I become?! I'm a little embarassed considering how unconfident and hideous I am in real life! The joys of my mum being a brilliant photographer and the wonderful editing effect 'cinemascope' on Picnik.com) make up for that fact. For once I have a more adequate reason though, as I have only gone and got myself a job! I'm now working at Waterstones in Piccadilly, which I just can't believe considering as over forty people attended the recruitment evening with only two roles available. I'm just so shocked and proud of myself for managing to stay composed in the group and one to one interviews, particularly as this was literally my first ever job interview and only the third I'd applied for
! I'm quite a nervous person, so working in such a big store with so many people is rather scary for me, but hopefully I'll get used to it all soon! Anyway, notice anything different about me? Yes, I'm exposing an awful lot of leg for once! I'm very self concious about my legs, so much so that in the last five years I have only 'got them out' fully twice (whilst on holiday in Thailand and for my Bertie feature), but hopefully soon I'll gain enough confidence to not just show my legs on holiday or for in the ten minutes it takes for my mum to take my blog photographs, but for a whole day wondering around London. Anyway, you've seen most of what I'm wearing before (I promise I won't wear my The Kooples shorts for a while!), but the American Apparel tee and Urban Outfitters clutch are quite recent acquisitons. The charity shop where I volunteer, Wandsworth Oasis, has kindly given me another brand new Urban Outfitters clutch to give away on my blog, so if you'd like the chance to own one just add an 'enter me' at the end of your comment I'll randomly select one winner in the next few days! Thank-you for being such wonderful people towards me. Love, Jazzabelle.