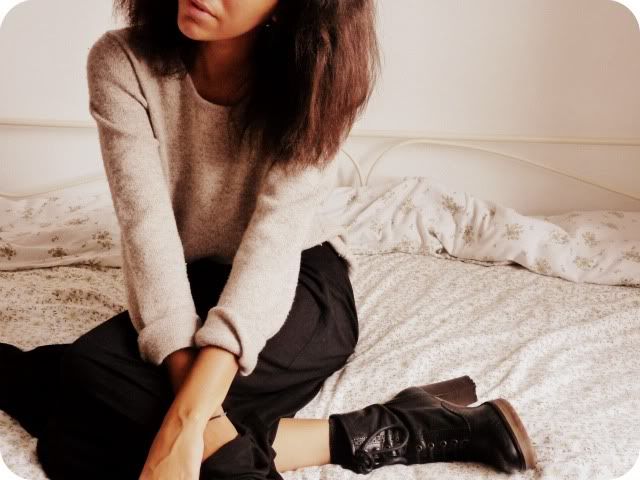 Jaeger jumper, charity shop, 50p - H&M maxi dress, car boot sale, 50p - Boots, c/o Bertie - Veiny hand and frizzy hair, ew.
The title of this post is one of my favourite
quotations, by Jean-Paul Sartre, as it's something I can really relate to. I've always been a person who enjoys being alone -
I often spend my college lunch breaks on my own in Starbucks and like nothing more than wondering around the Victoria and Albert Museum by myself. I'm also an only child (if you hadn't guessed already), so I have grown up knowing how to entertain myself from a young age. One thing which I really dislike is when others assume that because I'm often alone, it means that I'm lonely, because the majority of the time it doesn't. Of course I can feel lonely at times, I believe it's in my nature, but as Marilyn Monroe said, 'I restore myself when I'm alone'. Anyway, I'm rambling on a little, this post was simply an excuse to show you clearer photographs of the boots I chose at the Bertie blogger evening I posted about a few days ago. They are so beautiful, I'm very lucky indeed. I so adore the top photograph, which was taken by my lovely friend Shana-Kaye. I know that she was just randomly shooting in hope that I'd get a shot that I liked, but I just love the compostition and the movement of my dress. Thank-you, Shana! Love, Jazzabelle.