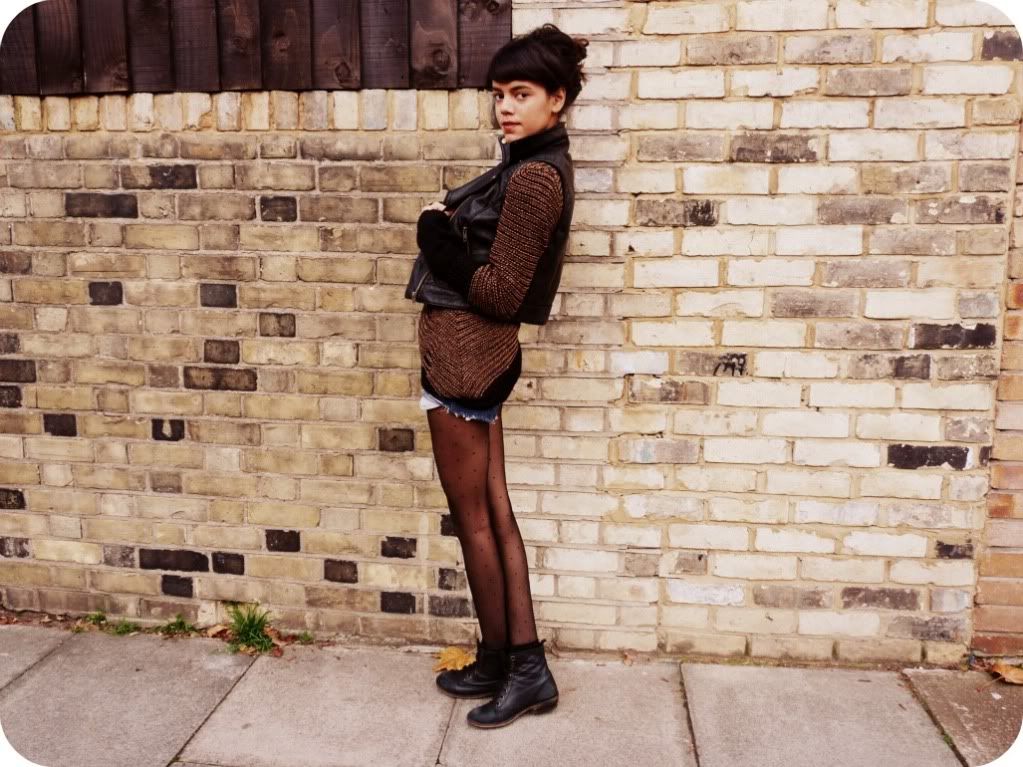 -Next metallic jumper, Take10 challenge item -H&M
jumper, charity shop, 50p - H&M gilet, charity shop, £8 -Belt, charity shop, £1.99
Yes, I am indeedy the new Take10 girl! I couldn't quite believe I was asked to take over from the lovely Saskia (I miss you!), who is unfortunately too busy with medical school to continue, I'm so very looking forward to all of the challenges to come! The first item I was sent was this Next metallic jumper and oh my, how it was difficult for me to style.

Next has so many beautiful pieces in store this Autumn/Winter, but unfortunately for me this wan't one of them. It's metallic, orange, itchy and it snags easily, I personally could never pay thirty-eight pounds for this.

I like to think that I have somewhat made the jumper my own, though, by teaming it with my favourite charity shop belt, polka dot tights and my H&M gilet which as appeared on my blog so many times since I bought it (I promise I won't feature it for a while, hehe).

How do you think all of the other girls and I styled the jumper? It's amazing to see how everyone has worn the same piece, still sticking to their signature styles. Love, Jazzabelle.

Left to right on the collage (click to enlarge): Me, Shini, Nic, Sabine, MJ, Jen, Sarah, Sherin, Vicki and Adele

- Thank-you for all so kindly welcoming me as the newest Take10 girl!