"If you want a golden rule that will fit everything, this is it: Have nothing in your houses that you do not know to be useful or believe to be beautiful." - William Morris
.
I absolutely adore this quote, it's ever so true!
As some of you may know, I live in a cosy one bedroom council flat (not a sky rise, just a two storey flat) with my mum, and a couple of years ago she ever so lovingly moved out of our bedroom to let me have my very own room. As it's the only bedroom in the flat, it means it's rather big and has two built in wardrobes (one for me, one for my mum!), and in the last couple of months I have nearly got it the way I want it - f
illed with many
lovely secondhand finds

, William Morris prints, floral patterns, frames, hat boxes, cushions, magazines, books, and pretty bits and bobs. My room used to be more floral and girly, but now I'm taking the more antique, vintage and eclectic look.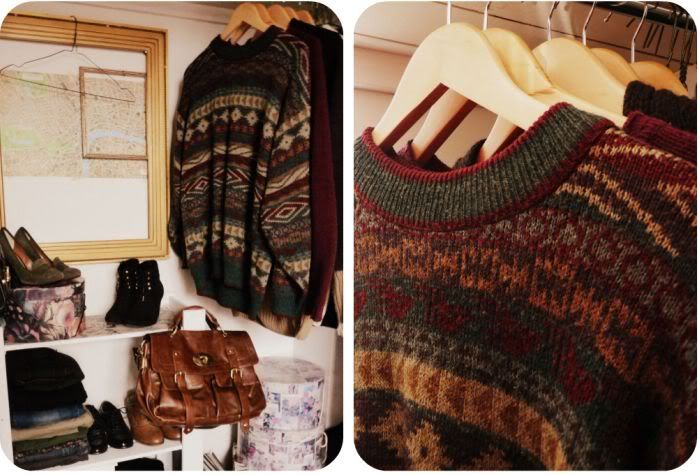 Of course my hobo jumper is the pride and joy of my wardrobe, hanging in it's rightful place at the front with all of my other knitwear, along with my most worn pieces folded on the shelves below. I bought the large gold frame in one of my favourite charity shops for three pounds, the matching hat boxes were five pounds and the floral hatbox was just fifty pence. The lovely, possibly vintage, suitcase was completely free, I found it just left outside my flat one day, so couldn't resist taking it for myself! The cabinet on the right holds a wooden divider (£1.50), a William Morris print folder (£1.25), a shoebox full to the brim with postcards, a few art books, House & Garden magazines (20p each) and a 1975 issue of Vogue I bought for just two pounds! This is definitely my favourite corner of my bedroom!
I started to collect Vogue magazines in 2007 and since
2008 I forbade myself from ripping them up for collages, as they will be lovely things to look back on in the future. I think they make quite a lovely display in my wardrobe, but goodness me it is such an effort when I move them from one side of my room to the other! On display I also have some of my favourite secondhand books; the Collins Road Atlas (I ripped out the lovely map of London to put in my gold frame inside my wardrobe) was £1.50, The first Audrey Hepburn book was £5, the second was a gift, the third was a £1 and the William Morris book at the end was £1. Anyway, I think that I shall leave it has that, I hope you like my bedroom as much as I do! What does your bedroom look like, or what do you wish it looked like? Love, Jazzabelle. P.S. Yes, yes, I know it's not quite December yet, but I was actually going to post this on Wednesday but I just couldn't wait, hehe! Edit: Forgot to mention that I recently done an interview for Cellardoor Magazine's blog, please do take a look to find out what I can't live without and some tips for charity shopping!