Here are a few more answers to the wonderful questions I was asked by you all last month, alongside a few photographs my mum took of me yesterday after my shift at my favourite charity shop. I felt rather pretty yesterday so I'm chuffed with how these pictures turned out.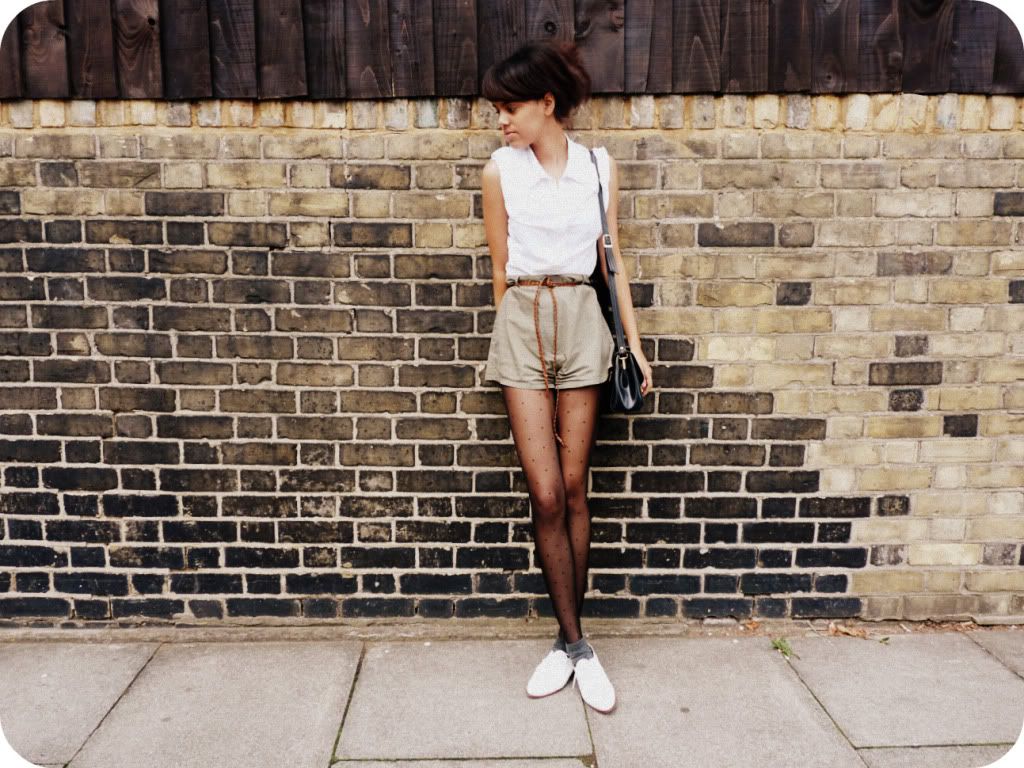 *Shorts, 25p, charity shop *Leather plait, charity shop, free *Satchel, charity shop, £5.99 *M&S St Michael brogues, car booty, £4. I'm rather attached to these shorts, now. I've worn them an awful lot since I got them two weeks ago. My pay-per-wear must be about five pence a day, bargain! Don't tell anyone but I wore them two days in a row, for shame. On Tuesday I wore them with a black vest, my lace Next blazer and my Zara raincoat, yesterday I teamed it with my grandma's shirt and some lovely unworn St Michael brogues I picked up at my local car boot sale (Battersea) for only four pounds! I literally squealed when I saw them, I'm a little size three and have never seen secondhand shoes in my size before. Are there any things you wish to pick up secondhand but can never find them? I'm intrigued to know! And what do you think about the leather plait? I really think it adds something to my simple outfit. Anyway, let's get on with my answers!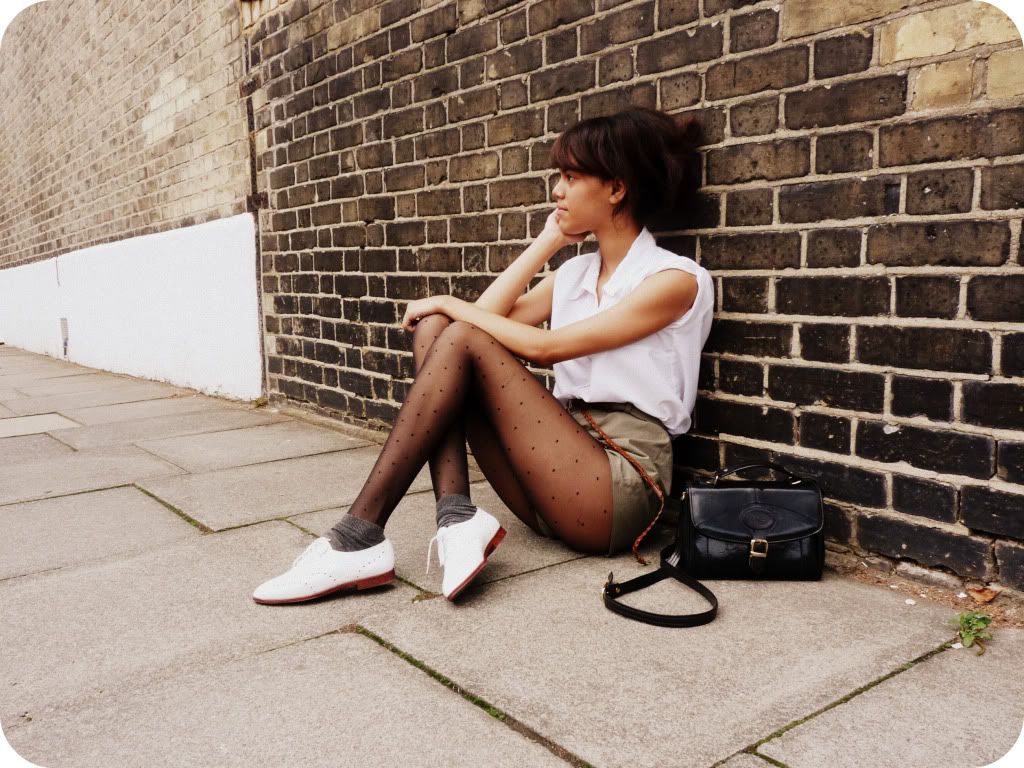 What are you currently doing for a living, and what are your aspirations for the future? I'm currently a student, I recently completed my National Diploma in Art and Design an Kingston College achieving the highest grade (not the second highest like I was told! I recieved my certificate a couple of weeks ago and it states I achieved triple distinctions!) and will be going on to do a Foundation art course at the same college. I don't have a paid job at the moment, as I don't feel I have the confidence or experience to get one, but I volunteer at my favourite charity shop every Wednesday, and I am also a member of the V&A CreateVoice forum. It's my dream to own a little shop and tea room, selling a range of teas, secondhand clothing and homewares, but as that probably won't happen, I'd like to work in the fashion, retail, art and design industries. As long as I earn enough money to pay my bills and buy the occasional Starbucks, I'll be just fine.
What camera do you use, how do you edit your photographs and do you use self timer? The camera I use is a Panasonic Lumix DMC-FZ28, which my lovely parents bought for me for Christmas. I think it's a lovely little camera, plus it looks quite professional but it's still lightweight. I edit my photographs on Picnik.com, the main two effects I use in practically all my photographs are Cinemascope and 1960's. Cinemascope creates a bright, grainy effect and enhances the colours in my photographs, whist the 1960's gives a warm glow and my trademark rounded edges. I take my indoor outfit photographs (white walls, lace curtain) using self timer, but as I currently don't own a tripod I balance my camera on various objects including shelves, hatboxes and books, hehe.
What three things are on your wishlist for your next shopping outing? A couple of days ago I would of said a pair of proper brogues, but now that's covered I would have to say: the perfect foundation to even out my uneven skin tone, a lovely coat for autumn/winter and some William Morris (I adore his work, I really ought to do a post on him) inspired curtains and cover for my bed.
I hope you enjoyed my post, I made this rather long as I probably won't be posting until Sunday evening. You'll never guess where I'll be heading on Sunday? Okay, you guessed it. The Victoria and Albert Museum of course! Hehe. Love, Jazzabelle.