F&F Couture lurex skirt, Take10 item - Velvet tee, charity shop, 50p - Liberty scarf, charity shop, £1.50 - Boots, c/o Clothing at Tesco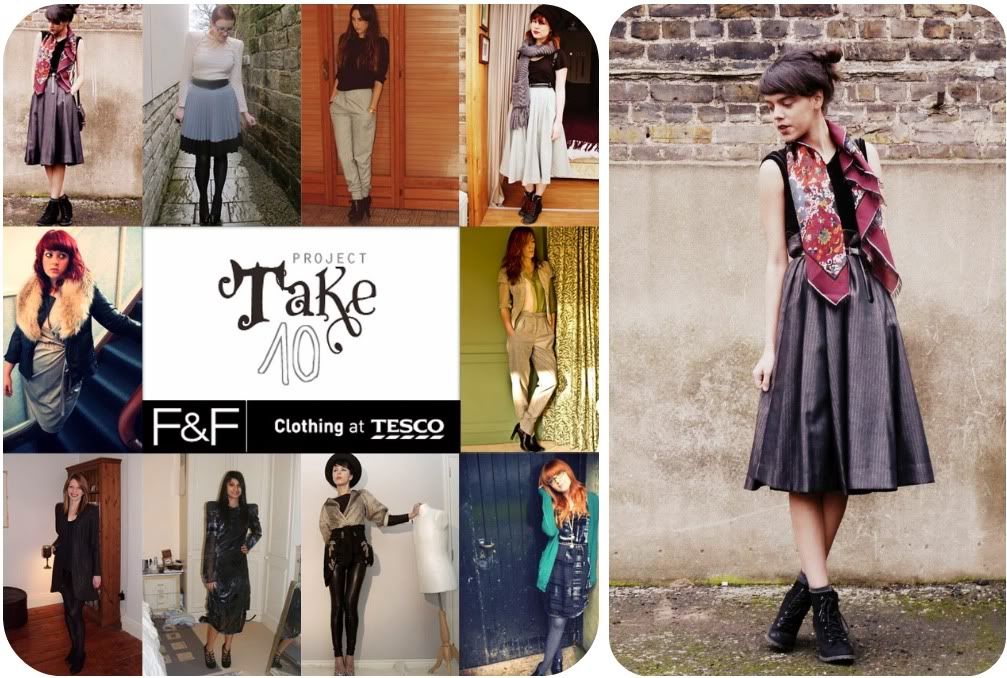 Me, Jen, Adele (her housemate, Marta, stepped in due to size issues), MJ, Sabine, Vicki, Nic, Sherin, Sarah and Ellie.
Hello everyone! Another Take10 challenge here, but this time it's something a little bit different to the usual. Instead of each getting sent the same piece to style, Clothing at Tesco asked us to choose anything from the F&F Couture range for each other! I chose a dress for Ellie and the lovely Nic chose this skirt for me, which just so happened to be the piece I most wanted to recieve. I decided to wear the skirt high waisted and teamed it with some of my favourite charity finds, including a beautiful Liberty scarf I recently picked up for just £1.50. Like in my previous challenges, I personally think that this piece is really quite expensive, plus the sizing is rather bad (they only go down to a size eight, whereas I'm a size four/six. Plus when my grandma, who is a size twelve, tried it on it fit her perfectly), but
I did enjoy styling this piece and I felt very fancy whilst wearing it. How do you think the other girls and I styled our chosen pieces? Love, Jazzabelle.